Plastic magazine bags are finished. Make way for 100% recyclable paper magazine packaging!
Moving towards no more plastic
Single-use plastic packaging has become public enemy number 1 in just a few years. Indeed, several million tonnes of waste end up directly in our seas and oceans each year. On the list of observed waste, plastic packaging is leading the rankings. Les Echos magazine explains that "out of more than 400 million tonnes of plastic produced in the world each year, 158 million are used by the packaging sector, and a big proportion of this is the production of single-use packaging".
The Zero Waste France association also issued a warning of the alarming quantity of plastic waste produced on mainland France in 2016. More than 4.5 million tonnes of plastic waste were produced in France that year. In 2022, France is getting to grips with the plastic bags used to cover the magazines and advertising we receive in the post every day. The country is aiming to recycle 100% of its plastic by 2025.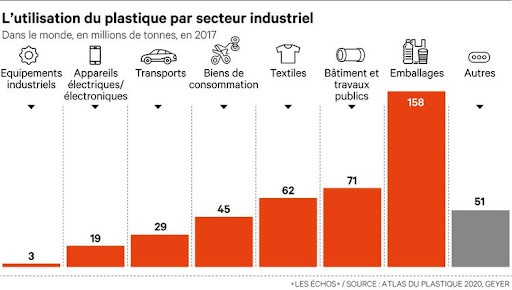 Moving towards 100% recyclable and plastic-free paper magazine packaging!
The "e-bliss" project
It all started in 2017. Part of the ecological transition, the innovative "e-bliss" project was launched in collaboration between CITEO and the "Centre Technique du Papier" (technical centre for paper). Indeed, at the time, CITEO explained that it is necessary to get a head start on the Anti-Waste and Circular Economy Law ("AGEC"). In particular, this law is aimed at transforming the current economy in a sustainable way into a circular economy. The first seismic event was the end of the sale of single-use plastic products such as straws or cutlery. Since 1st January 2022, this ban was also extended to include the plastic films traditionally used to wrap the magazines and newspapers that we receive in our mailboxes.
The "e-bliss" R&D project led to the creation of an eco-designed transparent and heat-sealable mailing film, made of cellulose fibre, that can be recycled in the paper industry. The idea behind this project? To design some heat-sealable packaging so that the bag can be closed using heat while remaining 100% recyclable and plastic-free. With "e-bliss", CITEO is aiming to reduce the environmental impact of print media packaging by finding a sustainable alternative to conventional plastic envelopes.
What's more, CITEO explains that, following a survey conducted in 2020, 86% of French people think that packaging, especially plastic, has a role to play in preserving the planet. Given that public opinion is increasingly in favour of eco-responsible products and given the recently adopted Anti-Waste and Circular Economy Act ("AGEC"), packaging paper is becoming a genuine sustainable alternative to plastic magazine bags.
The paper bags cannot be heat-sealed.
Several youth magazines belonging to the Bayard group, including Youpi, Wapiti and Phosphore, have adopted heat-sealable paper bags since 2020! The project was supported by CITEO. In total? Three consecutive issues of Youpi were sent in paper bags, i.e. nearly 50,000 copies.
The heat-sealable paper packaging for the eco-responsible sorting and mailing of newspapers and magazines
There are many benefits of heat-sealable paper magazine packaging for manufacturers and end consumers:
Firstly, paper packaging is 100% recyclable in the paper industry, while also being biodegradable and therefore compostable at home! The paper can therefore be used and recycled.
The paper packaging is heat-sealable and transparent, and complies with the requirements of the press industry for protecting magazines and newspapers.
The heat-sealable paper packaging is easy to use and ship. The recipient's address is printed directly on the paper.
The production of paper packaging is compatible with existing sorting and mailing machines without leading to a drop in productivity.
Every type of magazine, newspaper or brochure can be stuffed into the heat-sealable paper bags. Consequently, there is a wide variety of available weights and colours, but the packaging paper qualities are generally either translucent (glassine type) or opaque (white or kraft).
Recyclable packaging paper is increasingly considered and even adopted by businesses in the press sector, but also by institutional bodies. Moving towards a circular economy and increasingly eco-friendly products!
Request a Quote