Since the passing of the Anti-Waste Law for a Circular Economy ("AGEC") and the new measures put in place in 2022, single-use plastic packaging has become the pet hate of consumers. Indeed, following the ban on straws, cutlery, plates or even plastic boxes in 2022, the spectrum is widening and now, it is fruit and vegetable packaging that is in the firing line. With these measures, the food and catering sectors have been forced to adapt and modify their order book. It is in this context that recyclable paper can play a key role as a real alternative to the traditional plastic packaging used in the catering industry. Using recyclable paper food-grade packaging also has many advantages.
A necessary change of direction in food packaging
First of all, since the announcement of the "AGEC" law and the new decrees, alternatives to plastic packaging have blossomed throughout the catering sector, i.e. fast-food, restaurants and snacks, and for good reason. The use of non-recycled or recyclable single-use plastic packaging is strongly discouraged under penalty of receiving a sanction or fine. As you will have realised, it is therefore necessary to find sustainable alternatives. While cardboard is widely acclaimed for being easy to recycle and for its strength, recyclable paper products like recyclable pure pulp paper, for example, are also highly effective for packaging use in the food and catering sectors. The Lemon Tri platform even explains that, "from next year, it will be the turn of disposable tableware to be banned from all fast-food restaurants for meals served on site, and from 2024, the law will ban certain products containing micro-plastics."
Reduced impact on the planet with recyclable paper packaging for the catering sector
Choosing recyclable paper for catering packaging not only helps to comply with the law by reducing the use of plastic packaging, but also to promote the virtuous circle of recycled and recyclable products. Indeed, recyclable packaging can be upgraded and transformed up to five times in the circuit. Paper for catering packaging uses can, in some cases, be made of "natural biomaterials with barrier properties, which remain single ecological materials that are perfectly biodegradable and recyclable," as Gascogne Papier explains. Consequently, should some kraft paper-type food-grade packaging used to wrap pastries end up in nature, for example, it will take less time to degrade than plastic packaging.
Equivalent performance
Just like its distant plastic cousin, recyclable paper packaging has some great properties that are required by the food sector. For example, natural kraft paper can be recyclable and greaseproof. It is therefore suitable for food contact and can be used to package cold and hot food as well as for reheating every type of food. It is particularly resistant to grease and moisture. Moreover, the resistance and non-stick properties of this mono-material make it a great option for catering packaging but also for baking. Recyclable kraft paper, for example, can also be personalised with the brand of your snack bars, restaurants or fast food outlets!
Moving towards a greener food sector
Without being accused of greenwashing, it is now possible to take real action to protect the environment within your restaurant. Indeed, while the options in terms of ecological catering packaging used to be expensive and limited, now there is plenty of choice at reasonable prices, and that's good news when you are aware that food packaging is one of the bigger costs in a snack bar or fast-food outlet! More and more consumers are sensitive to the issues surrounding the environment and reducing plastic waste.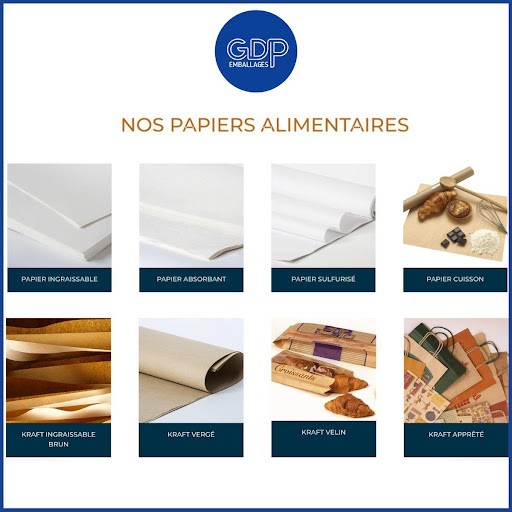 Choosing recyclable paper for catering packaging, such as kraft paper, is not only an effective way of taking a responsible approach to the environment, but also of replacing plastic packaging, without compromising on the expected performance of the sector and a high-quality customer service.
Request a Quote