On average, paper and cardboard take three months to one year to decompose, if they are not recycled. From plastic, it takes 100 to 1000 years. The difference is huge! What's more, paper and cardboard are easily recyclable materials, which can be recycled within the sector most of the time. Indeed, the French paper industry is one of the industries that pays the most attention to environmental issues. For example, 61% of paper packaging is recycled in France and reintegrated into the French industry. The recycling of paper and cardboard packaging is therefore essential, both for the preservation of the environment and for the French paper industry. There's no need to panic, the paper logos and labels are there to guide the consumer in their choice of packaging!
Identifying recyclable paper and cardboard packaging
While sorting and recycling techniques have evolved and been simplified in recent years, some products are still difficult to recycle. And yes, not all paper and cardboard can be recycled and repurposed! For example, this is the case for aluminium foil, sanitary paper (tissue paper, nappies, etc.), or even paper and cardboard packaging, which has absorbed moisture and/or fatty substances.
However, it is possible to check whether your paper or cardboard packaging already comes from recycled sources and whether it is recyclable even before it is used. How do you know if your paper packaging is recycled or recyclable? The number one trick for finding out if your paper or cardboard is recycled and/or recyclable is to look for any logos, labels or environmental claims printed on the packaging. There are many environmental logos and labels for paper and cardboard, and they can sometimes be confusing. Here is a selection:
Paper logos and labels specifying whether the product is recycled or recyclable
Some logos or labels do not necessarily specify whether the product is recyclable but only whether the product has been made from recycled fibres.
APUR : symbol that indicates the percentage of recycled fibres used to manufacture the product. To obtain this certification, the product must be composed of a minimum of 50% recycled fibres.
TRIMAN : means that the paper packaging is recyclable, and can be sorted and subsequently recycled.
LA BOUCLE DE MOEBIUS : environmental claim which indicates what proportion of the material is recycled, if any. On the other hand, it does not necessarily indicate whether the product is recyclable.
ANGE BLEU : the oldest and relatively demanding ecolabel, the Blue Angel was created in Germany and can be found on products with a recycled content of at least 75%.
TETRA PAK : indicates that the product is 100% recyclable.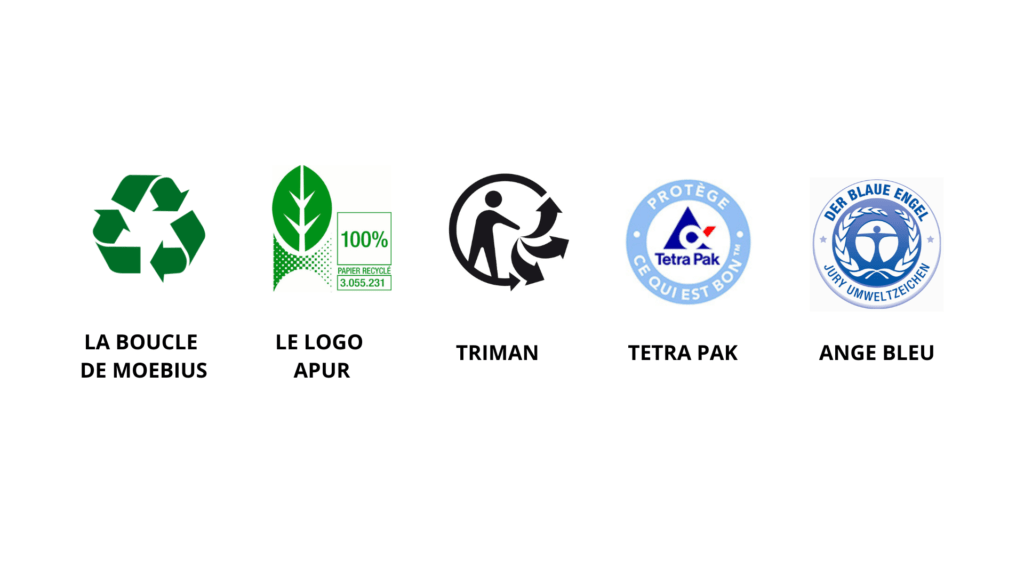 The certifications on the source of fibres
Some labels give more information about the origin of the fibre used.
FSC ou PEFC : the wood used comes from managed forests and responsible sources.
PEFC Recyclé : the certified products are made with at least 70% recycled material.
FSC Recyclé : FSC Recycled products are made from 100% recycled wood or fibres.
FSC Mixte : FSC Mixed products are made from a mixture of wood from FSC-certified forests and recycled fibres.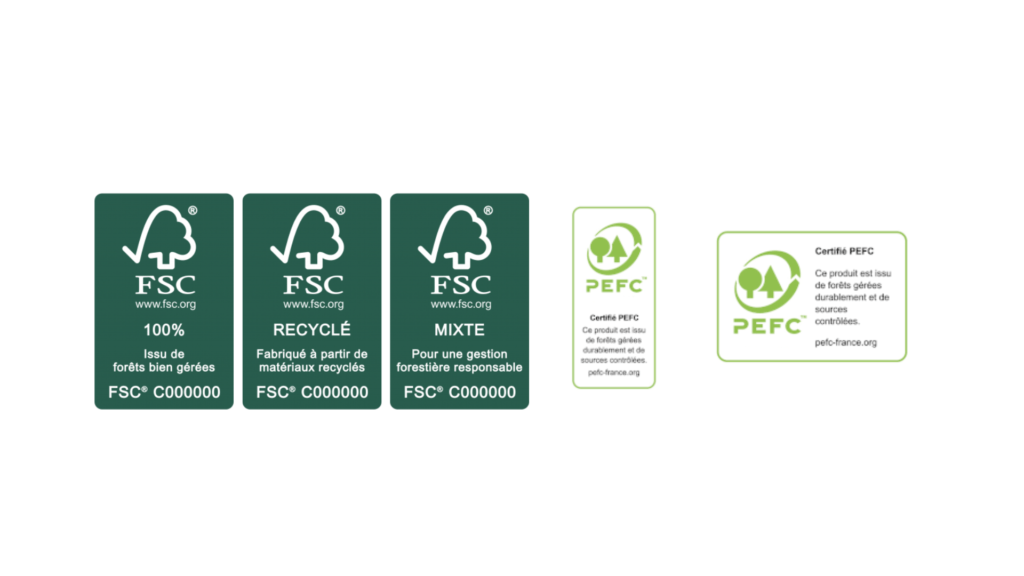 More general logos and ecolabels
A paper logo or label does not guarantee that the product has been recycled, beyond any doubt! Some logos or ecolabels are more general and only indicate that the company is committed to the planet.
CITEO : merging of Eco-Emballages and Ecofolio (2017). Company that specialises in recycling household packaging and graph paper.
IMPRIM'VERT : brand that singles out printers that are committed to reducing the carbon footprint of their production facilities.
ECOLABEL EUROPÉEN : ecolabel used throughout the European Union, to certify products that meet a number of environmental and performance criteria. Citeo explains, "for the newspaper, at least 70% of the fibres used must be recovered. For copy paper/graph paper, the fibre can be virgin or recycled".
POINT VERT : the company that puts it on its products pays a fee to Citeo, a company that coordinates sorting and recycling operations in France. Please note: it does not guarantee that the product is recyclable. However, since 2017 this label is no longer mandatory.
NF : French ecolabel which certifies that the products have a reduced impact on the environment. Some of the requirements include reducing the weight of products, placing a limit on hazardous substances or even reducing energy consumption during the manufacturing of the products.
TIDY MAN: this label only prompts the consumer to sort their waste.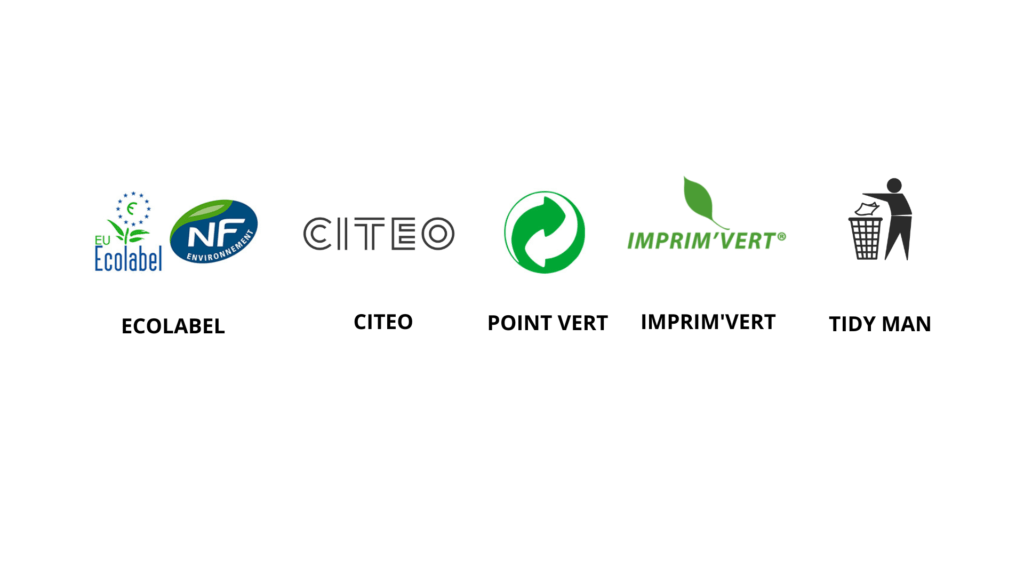 Request a Quote