Packaging paper is a product that is found absolutely everywhere and in every industry: food, removal services or even glassware. Perfect for packaging, over-packaging, protecting or even packing fragile objects, there are many types of packaging paper depending on the use. But beware, not all packaging paper materials are recyclable!
The different types of recyclable packaging paper.
Recycling has become a key part of our daily lives. With more than 9 million tonnes consumed each year, France is a major consumer of paper and cardboard! To preserve the environment, the paper industry is constantly looking to make improvements in order to give new life to these materials!
When does paper become recyclable? Quite simply when it can be transformed and used again in the paper industry. The good news is that many paper products are now recyclable, including those made for contact with food!
Paprec explains that it is has become easier to recycle because of recent developments in the selective sorting techniques for "newspapers, magazines, advertising flyers, office papers, shoe boxes, yoghurt packaging, cereal and cake boxes, etc. You can also add to this such categories as photo paper, tracing paper and kraft envelopes!"
This also includes:
White newsprint paper
Recycled kraft paper
Tissue paper
Certain types of gift wrapping paper
Tracing paper
Paper bags
Cardboard and packaging paper (corrugated, flat, etc.)
Wrapping paper
As you will have realised, the list of recyclable packaging paper options is long and that is good for the Planet! The packaging paper collected in this way is stored and then transported to sorting and recycling centres to be recycled and transformed once again into RCF products, which stands for Regenerated Cellulose Fibres. The Paprec organisation explains that "this new raw material made from recycling will be consumed […] to become cardboard, kitchen towel, newsprint paper, writing paper, etc."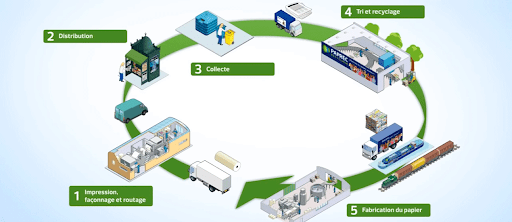 How do you know if an item of packaging can really be recycled?
Although it is true that many paper items can be recycled, this is not the case for ALL packaging paper items! Here are three tips to make sure you can put your products in the recycle bin and not in the household waste.
Tip number 1: check for any recycling logos.
The Point Vert, Eco-folio or CITEO logos indicate that the manufacturer complies with the French recycling system.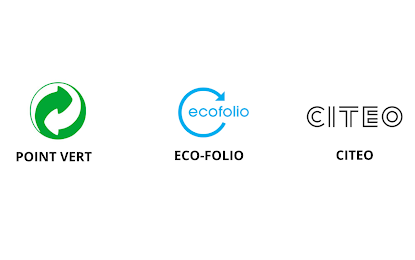 The Triman and Möbius strip logos indicate that the paper is recyclable.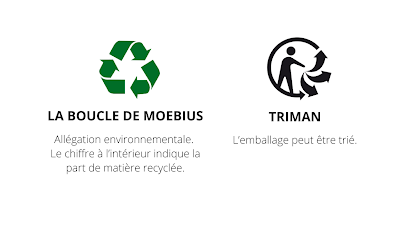 The APUR label or the Möbius strip indicate that the paper is made from recycled materials.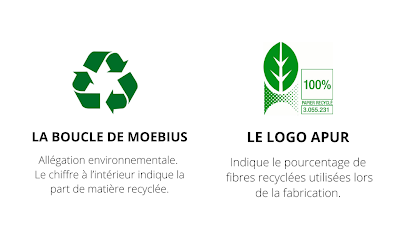 Tip number 2: if your packaging paper or cardboard has absorbed moisture or fat such as butter, oil, etc., then it should not be put in the recycling bin!
Tip number 3: sanitary paper such as tissues or toilet paper should go in the household waste and not in the recycling bin.

Recyclable and recycled packaging paper at GDP Emballages
Request a Quote